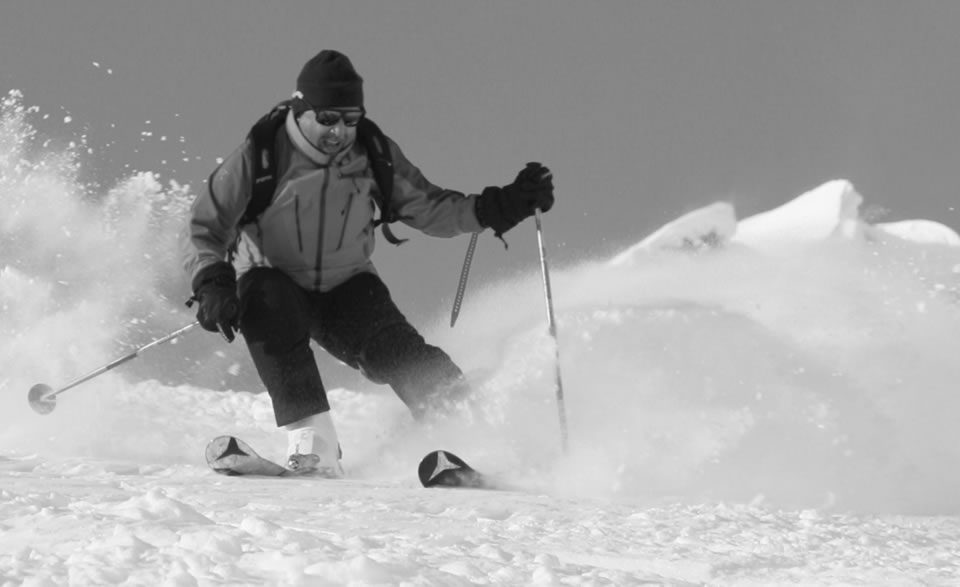 Oregonian May 28, 2014
Beyond the tow lift
Skiing has always been Fred Noble's biggest love. He was hooked as a teenager at Franklin High School in the 1950s, when he started on one of two rope tows at Summit Ski Area in Government Camp. He remembers toiling on the beginner tow, envious of those riding the other tow and considering them "pros." That just made him want to become a pro.
A stint in the U.S. Army followed high school, then he began a working career servicing transmission lines and other high towers. Work was mostly seasonal, which left him time to ski.
Within a few years, he was launching off cliffs in three of Warren Miller's annual ski movies. He became and remains the North American sales agent for Canadian Mountain Holidays, the world's leading helicopter ski operation with backcountry ski terrain in British Columbia larger than Switzerland.
Eric Sanford,  a Hood River photographer, remembers how he met Noble.
"I won some silly award for ski photography that was presented at the 1980 Warren Miller movie," Sanford said. "Fred was the movie's MC for many of those years, and we became friends.
"Fred was always on the lookout for doing something new or different. He should be dead a half-dozen times, just from the things we did together in Aruba, Chile and Brazil."
Fred vs. the ski patrol
Noble has been married three times, but his constant drive wore out relationships. His daughter, Julie, and her husband, Gary Bakkala, of Salem, are helping him to the end.
Recently, they joined him for a day of skiing at Mt. Hood Meadows, where Noble used a device called a sit ski. It allows those who can't control their legs to glide down a run in a chair mounted to twin skis, using outriggers attached to the arms to maintain balance.
It was a far cry from the way Noble used to ski at Mt. Hood Meadows, a resort Noble skied on opening day in 1968.
"Our ski patrol is much better because of Fred," said Dave Tragethon,  Meadows spokesman. "We've had to adapt our training and techniques specifically to keep up with his antics."
Noble used to poach closed parts of the ski area, before the Shooting Star and Heather Canyon lifts were built.
He remembers skiing out in the woods once and hearing a voice from the chairlift: "Noble, I'm coming after you."
To avoid losing his season's pass, Noble outskied the head of the patrol, dashed into the lodge, ordered a pitcher of beer and took off his boots. That gave him plausible deniability of being in the woods, once the patrol chief caught up.